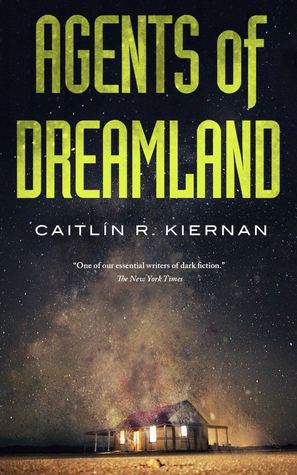 "The best foreshadowing never seems like foreshadowing."
Finally I've been able to catch up with Caitlin R. Kiernan's new novella and it has left me wanting more in all the right ways. Kiernan's writing never fails to jolt me with its splendour, reminding me in just a few paragraphs of everything I love and feel drawn to in horror literature and hungry to read and write more of it.
This little book is replete with Kiernan's recurring themes – cosmic horror and personal regret, enlightenment (never in a good way) and alienation, the inescapable sense of a greater, more desperate truth closing in – as well as quotes from Eliot's 'The Waste Land' and Lovecraftian references that will delight all followers of the Mythos.
Indeed, my only reservation about Agents of Dreamland lies in wondering if it would have been better – more terrifying, even – if Kiernan had dispensed with the explicitly Lovecraftian armature that supports this story and had it play out independently of the Mythos, more in the manner of The Dry Salvages. The themes and implications speak for themselves, and it isn't as if the Mythos is, well, true…
It's probably just me. I've never been all that into shared-world scenarios. In any case, don't let this small caveat put you off the novella, which is as ambitious, ambiguous, and seeping with dread as all great horror fiction should be. I love Kiernan's sense of place, her relaxed, vernacular dialogue just as much. I can't wait for the upcoming release of her expanded edition of Black Helicopters, as well as her new, as-yet untitled novella set in the same universe.
I've been working well on new stuff today, and I feel certain that being immersed in Dreamland has had something to do with that.