I'm a guest at Edge-Lit 5 in Derby this coming weekend. I'm delighted to be attending this mini-convention, and with guests like Alastair Reynolds and M. John Harrison in the line-up, it promises to be a great day all round.
I'll be taking part in three panels, discussing subjects as diverse as the indie press revolution, the future of science fiction and the writing life. I'll also be chairing a workshop in which I'm looking forward to having some good conversations about how we write – military campaign or abject chaos. You tell me!
Edge-Lit 5 will be taking place on Saturday from 10 am at Derby Quad. You will find the full line-up of amazing guests and programme items here. Please do come along if you can.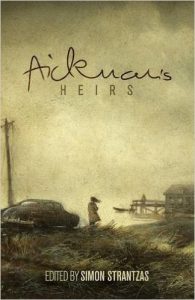 In another piece of good news, I was thrilled to see Aickman's Heirs taking the Shirley Jackson Award for Best Anthology over the weekend. It really is a special book, highlighting the continuing influence and importance of Robert Aickman as a writer, whilst simultaneously showcasing new and emerging trends in horror and weird fiction on both sides of the Atlantic. Full kudos to editor Simon Strantzas for dreaming up this project and bringing it to life, and particular congratulations to Lynda Rucker, whose story 'The Dying Season' deservedly carried home the individual award for Best Short Story.