I'm using this page to make available some of my earlier stories that aren't currently collected. Some of these are stories that I originally intended to be included in Microcosmos – that was before Ian Whates reminded me that the volume was supposed to stop at 50,000 words and we both almost had heart attacks. Others are just odd little stories that, for one reason or another, I still feel fond of.
Firstly there's Fleece. This is the story I read aloud on the final evening of the Arvon writers' course I attended at Totleigh Barton in 2004.
Also with an Arvon connection comes Dazzle. We were told to bring two stories for the group to critique, and so I chose my two most recent pieces, 'Bird Songs at Eventide' and 'Dazzle', one SF, the other an example of the more slipstream-type stories that would come to characterise the contents of A Thread of Truth. 'Bird Songs at Eventide' was originally published in Interzone #199 in 2005, and shortlisted for the BSFA Award in 2006. 'Dazzle' was later revised, and went on to be published in Trevor Denyer's magazine Midnight Street, back in the days when it was still a paper publication.
Darkroom proceeds in a straight line from 'Dazzle' in terms of its mood and preoccupations, and there are ideas and situations in this story that I would like to come back to and enlarge upon at some later date. 'Darkroom' was written in 2008 and first published in the Elastic Press anthology Subtle Edens, edited by Allen Ashley.
En Saga was first inspired by a stranger I happened to notice on the Tube, wearing the Dutchman's brass-buttoned blazer and with his same intense gaze. Part 2 of the story, 'Christmas' was actually first-drafted on Christmas Day 2007. I later rewrote and enlarged it as a continuation of the story of Michaela, who was just a baby in Part 1, 'The Flying Dutchman'. The complete 'En Saga' was first published in Black Static #6 in 2008. The story was later subjected to a perceptive and complimentary analysis by Peter Tennant at his blog, Trumpetville.
'The Upstairs Window' was one of those stories I wanted to include in Microcosmos but didn't have room for. Written in about 2008, the story was originally published in Interzone #230 in 2010, and joint editor of IZ Andrew Hedgecock liked it enough to reprint it at Paraxis, the online magazine he runs with Claire Massey and Carys Bray.
I wrote Feet of Clay in response to a request from Joel Lane to contribute to the 2010 anthology of 'stories against fascism' called Never Again that he was editing with Allyson Bird. I wrote it in an urgent panic in just two weeks, after the story I originally planned to submit ('The Silver Wind') overshot its word limit by some 10,000 words. The story was directly inspired by the landscape of the Peak District near Castleton, which Chris and I had recently visited as part of a little nostalgia-tour of locations he used in The Affirmation. 'Feet of Clay' was later reprinted in the British Fantasy Society's 40th Anniversary anthology Full Fathom Forty.
Finally, here is Angelus, the story that won me Ireland's Aeon Award in 2007, recently reprinted in Lightspeed magazine. This was the first of my near-future science fiction stories to feature the space travel technology known as the Kushnev drain. (Valery Kushnev's experiments in genetics crop up again in 'Flying in the Face of God' and 'Stardust'.)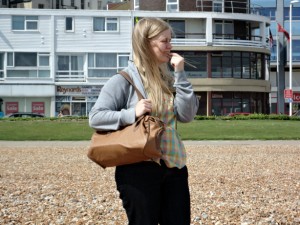 (Photo by Chris Priest)