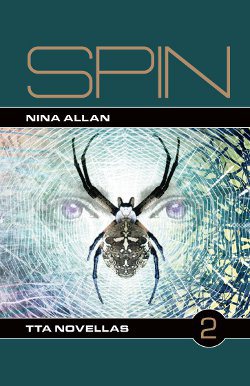 "Nina Allan's re-imagining of the Arachne myth, with its receding overlays of the modern and the antique, creates a space all its own. The scene is clean and minimal, the light Mediterranean, the story seems musing and sad: but by the last two pages, Spin has you in a grip that persists long after you put it down" M. John Harrison
'Nina Allan brings myth alive with dream-like intensity, poetically fusing past, present and future.' Jane Rogers
"The writing is precise, the imagery vividly sensual; by re-imagining ancient myth in a stunningly realised alternate Greece, Nina Allan traps you in a web of story" Paul Kincaid
"Allan's prose is as adaptable as her juggling of SF and mythical materials: finely observed and realistic when it needs to be, lyrical when it begins to focus on romance and self-discovery. It's an elegant, quiet, and quite satisfying fable." Gary. K. Wolfe
"Spin blends contemporary, fantastical, and futuristic elements in a way that Nina Allan is making her own" David Hebblethwaite
"Allan expertly weaves SF, fantasy and mythology into a subtle, seamless, dreamlike whole. I loved it" Neil Williamson
Spin is a standalone novella published as the second volume in the TTA Novellas range. The story came into being as a direct result of a trip to visit my father in his new home, close to Kardamyli in Messinias, during the late spring of 2010. Of course, I fell in love with the landscape. I was thrilled to step inside rarely-visited monasteries, to look out on vistas that have barely changed in thousands of years. To soak up the heat. To observe, for the first time in the wild, butterflies of the genus Papillonidae. There was no way I wasn't going to write about it.
I remember the writing of Spin very well as it was the first thing I worked on as I began transferring my life from London to Hastings in the first quarter of 2011. Normally my stories tend to be very much influenced by the season they're written in, so it felt strange to be writing about the intense heat of the Mediterranean during the usual kind of grouchy English winter. It took me three months and many rewritings to get a first draft – but then everything fell into place and I felt secure enough about the piece to leave it where it was for a couple of months while I fulfilled the various short story commissions that had been building up in the meantime. I finished the second draft of Spin in the autumn/winter of that same year.
I've taken huge liberties with history, geography and even mythology in this piece, but then Spin is not, in any sense, an historical fiction or a travel memoir. It's a story about art, about creativity and about ambition, inspired by a landscape that still urges me to return to it, and a story about a woman and a goddess that I have loved since I was eight years old.
You can buy Spin here.
You can read the Story Behind Spin here.
You can read reviews of Spin here, here, here, here and here.