I don't know the crime genre nearly well enough, and that has started to bug me. I've never read Henning Mankell, for example, or David Peace, Joseph Wambaugh or Kerstin Ekman, George Pelecanos or Karin Alvtegen. Crime fiction has presented us with some of literature's most instantly compelling stories and many of its most enduring characters, but these are not the only reasons why I personally find it fascinating. What I love most about the idea of crime fiction is its forensic nature – the presentation and unravelling, in whatever form or style the writer chooses to present this, of a number of clues, or happenings, or incidents, and the way a story will arise almost inevitably out of this arrangement of disparate pieces. Every crime novel is, to a greater or lesser extent, an essay in the uncovering of something hidden, a key factor that has been deliberately concealed from the reader, often in plain sight, a mystery that the reader, for maximum enjoyment, feels compelled to solve.
I think it's likely that a good part of the reason crime fiction is so popular lies precisely in this work of joint imagining, the way the writer invites the reader inside, to work with them, almost, in a work of joint creation.
I read all of Dorothy L. Sayers while I was at university, at least in part because of Harriet Vane's Oxford connection. I continued to read a fair amount of crime fiction into my twenties, and there are a number of authors whose work I know pretty well. I devoured every book Ruth Rendell wrote as Barbara Vine (The Brimstone Wedding remains my favourite), and I read a lot of 'core' Rendells too, though I've always tended to prefer her non-Wexfords, wonderful books like Lake of Darkness, Going Wrong, A Judgement in Stone (turned into a marvellous movie by Claude Chabrol, La Ceremonie – go, go rent it now!) and my personal favourite The Bridesmaid (Chabrol made a movie of that, too – it's pretty good, but not as good as the book) to the series novels. I read most of PD James (her standalone non-Dalgliesh book, Innocent Blood, was far and away my favourite) I developed an enduring obsession with the fiction of Patricia Highsmith. What I loved most about her work was the way you'd frequently get a crime novel without a murder in it, or else the murder plot would be subverted somehow, or take a completely unexpected turning. Her characters were nuanced, compelling and above all weird, and it is the effortless weirdness of her storytelling that continues to amaze me. Her 'how to' book on writing suspense fiction is a genuine treat.
I suppose that given the emotional ambiguity of a lot of my own fiction, it's hardly surprising that the crime stories I tend to prefer are those that shirk the business of solving the mystery at their heart. Daphne du Maurier's My Cousin Rachel is a standout novel, a wonderful, joyously dark read that gives more with each subsequent reading at least partly because we never discover if Rachel 'did it' or not. The way du Maurier manages to get away with this inconclusive ending whilst at the same time making the novel a thrilling experience for the reader is a masterclass in genius-level storytelling.
More recently I've loved Roberto Bolano's The Third Reich, in which Bolano subverts the generic crime novel beautifully by having the central action of the story – a character's disappearance in mysterious circumstances – play itself out just beyond the main thrust of the narrative as it is presented to us, and also Keith Ridgway's Hawthorn & Child, firstly for its incredible London writing and secondly for its obstinate refusal to tell a traditional crime story at all. I was struck especially by something Ridgway said in an e-interview with John Self about the problem of the conclusive narrative:
I enjoy crime fiction a great deal. Or two thirds of it. By which I mean the first two thirds of each book. The last third of a crime book usually pisses me off. I love the exposition, getting everything set up and into position, and then the cranking out of the mechanics that are going to get the thing to dance. But in the last third it seems to always end up in a sort of badly choreographed dogfight and the pacing goes haywire and there's so much chasing after loose ends that it ceases to have anything to do with our experienced world and becomes more a sort of fantasy of resolution, a kind of neurotic tidying of life's mess, like sport.
These words sum up my own problem with the more conventional type of thriller pretty much exactly. (The same is true of way too many horror novels also – an amazing setup ruined by a downhill gallop towards a denouement that seems so stuffed full with cliches it's enough to make you want to kill everyone involved in it.) Perhaps this is even why I seemed to fall out of love with the genre at some point. I feel now that I've been missing out, and that rejecting a genre because I don't care for its bland centre ground would be the same as refusing to read science fiction because I no longer care for the work of Isaac Asimov. The trick – as with SF, as with horror – is to seek out the work at the edges, novels and writers whose concerns extend beyond the merely generic and into the personal exploration of defining obsessions.
I've read a fair amount of very good True Crime recently – Richard Lloyd Parry's scintillating People Who Eat Darkness, Janet Malcolm's excellent Iphigenia in Forest Hills, John Follain's flawed but fascinating Death in Perugia, and Gordon Burn's Capote-inspired Happy Like Murderers. (Burn is an achingly good writer, his premature death a genuine loss to literature.) Once again, what I've loved most about these books has been the construction of story through the examination of facts, the painstaking exhumation of salient details. I've seen more than one critic point to an obsession with detail as a defining characteristic of my own stories, so it seems likely that my excited response to this in the work of others is wholly to be expected.
I haven't written much crime fiction myself, mainly because I'm terrified of cocking it up, but I have written some. My linked pieces 'Wilkolak' (first published in Crimewave #11 and reprinted in Maxim Jakobowski's Mammoth Book of Best British Crime #10) and 'The Tiger' (published earlier this summer in Paul Finch's anthology for Gray Friar, Terror Tales of London) are both psychological crime stories with a slight supernatural element. More recently, my novella Vivian Guppy and the Brighton Belle, my contribution to Eibonvale Press's railway anthology Rustblind and Silverbright, makes a feature of precisely the investigative, forensic style of writing I've been talking about here. It's not a crime story so much as a mystery – a 'where is it' rather than a 'whodunit'. The story's protagonist, Marian, could definitely be described as a detective – though it's not criminals she's trying to unearth but model trains. When I delivered this story I said to David Rix of Eibonvale that what defined Vivian Guppy for me most of all was what tremendous fun it was to write (and believe me when I say that this is not always a given), and I was recently surprised and very delighted to see Des Lewis describe the story in his real-time review of Rustblind as 'a veritable page-turner'.
I've always felt immensely attracted though somewhat daunted by the prospect of trying to write a crime novel, but something Joel Lane said to me recently, that crime fiction 'is just a matter of finding a crime or a criminal to write about', clarified matters for me enormously. In placing the emphasis firmly on description, on the forensic examination of a given situation, rather than on the mechanical kind of plotting that led me to shy away from crime fiction in the first place, he gave me a means to analyse what matters to me most in this kind of writing, and the sense that I might even be able to produce some.
In the meantime though, I've decided it's high time I got to know the genre a little better. To this end I'm going to try and prioritize crime fiction in my reading over the coming months, and blog about each novel I read, sharing my thoughts and findings and my conclusions at this blog. Hopefully I'll start to build my own personal canon of crime writing as we go. So, with no further ado…
Nina's Crime Blog #1: The False Inspector Dew, by Peter Lovesey (1972)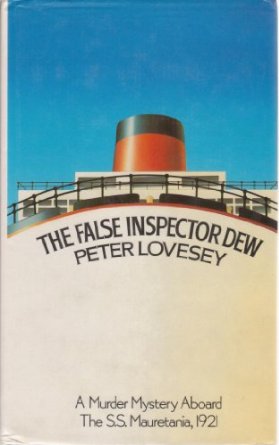 This might seem an odd place for me to start. Peter Lovesey writes crime fiction in the 'golden age' tradition: intricately worked mysteries with surprising plot twists and often within an historical setting. Classic detective fiction has few equals for sheer readability when it is done well, but the emphasis lies first and foremost with the building of a firm overall structure in which every happening is created expressly to move the plot forward. There is little room for digression in this type of story, and the characters tend to adhere fairly rigidly to their role as plot dictates it, rather than wandering off all over the place or messing things up with their complex psychologies. The False Inspector Dew is no exception to this. But what lifts it above the average and makes it a delight is Lovesey's clear love for and knowledge of his chosen strand of detective fiction, a love that articulates itself in the blissful and knowing ironies that make The False Inspector Dew so funny as well as so clever.
It's 1921 and Walter Baranov has a problem. He's a dentist, and he likes being a dentist – but his wife Lydia, a failing actress, has other plans for him. She wants them to sail for America in the hope of making it big in motion pictures. Walter sees only disaster ahead – but unfortunately for him it's Lydia who has control of the purse strings, and she's threatening to sell his dental practice to finance their voyage. Help arrives in the form of Alma, a patient of Walter's whose passion for him is such that she's prepared for them to try anything – even murder – to be rid of Lydia and free to pursue a life together. Things seem to go well for them at first – but an unforseen calamity soon reverses the tide of their fortunes, and Walter finds himself in the unenviable position of acting as detective to solve the crime he himself would seem to have committed…
The plot is beautifully worked – Ruth Rendell herself defied anyone to predict the outcome and I duly found myself outwitted at each new turn. But it's Lovesey's prose that makes all this happen in such fine style. His writing is of the kind that is so fit for purpose it is invisible – elegant, correct, unadorned, created solely for the pleasure of telling its story in the deftest manner possible, this is what I'd call Just Good English, and it would be well if more of Lovesey's would-be imitators were to take a lesson from him in how to write as well as what kind of stories to tell. Each character is drawn with economy and great clarity. The humour is wonderful – the kind of sardonic wit that is either part of a writer's God-given armoury or it is not.
I chose The False Inspector Dew to kick off my crime blog mainly because this novel has always been a favourite of Chris's and I was curious to see how I liked it. What strikes me most about it is that it's a whodunit in the proper old-school sense of the word. The crimes against good plotting in contemporary TV cop dramas are legion and tiresome. We recently caught up with ITV's Broadchurch, for example, and although we enjoyed ourselves watching it, and were able to work out who the killer was through a process of elimination, we felt cheated in that there was nothing in the script to prefigure motive, nothing whatsoever. For a screenwriter to rely on a shock revelation – 'ooh, X is a secret paedophile!' – that occurs less than twenty minutes from the end of an eight-hour drama is lazy writing, simple as that, and to be deplored, especially when you have great actors like Olivia Colman and David Tennant working for you, who deserve better.
Lovesey takes no such shortcuts. Everything is there on the page, right from the beginning. The reader can either choose to try and solve the mystery independently as s/he goes, or simply sit back and enjoy the feeling of being confounded.
What all this adds up to is traditional detective fiction of the highest order. I probably wouldn't choose to read this particular stripe of crime fiction terribly often, if only because it is so far from my own style and species of ability that it leaves me little room to be directly inspired. But do I admire it? Yes I do. And did I enjoy it? Yes I did – and plenty.
Next up: The Kills, by Richard House (I may be some time… )