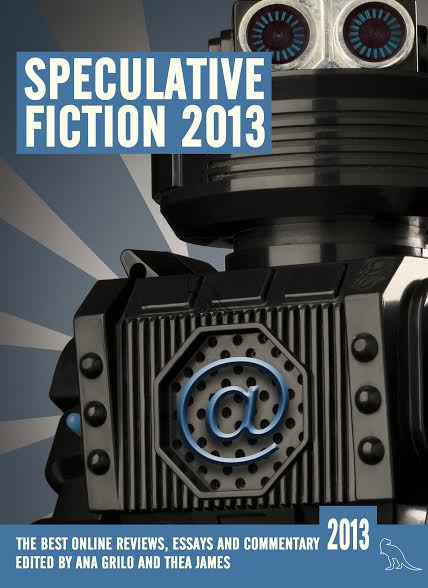 I'm very chuffed indeed to announce that I have a piece in the forthcoming Speculative Fiction 2013, an anthology bringing together the best SF essays, reviews and comment published online during 2013. Edited by the wonderful Ana Grilo and Thea James of The Book Smugglers, you can read the full (and awesome) list of contributors here.
It's fashionable to criticise the new 'democracy of self expression' for the trivial arguments, poor writing and total bollocks that inevitably get spewed forth by the truckload on an hourly basis. The great thing about that though is that all you have to do to get rid of it is close the tab, and no amount of nonsense negates the fact that one of the finest aspects of internet fandom is the way it is allowing new writers, bloggers, critics and reviewers to develop their voices. Even in the few years I've been active online myself, I've seen an increase in the quality, robustness and diversity of debate in and around SF and I find that very exciting. This kind of ongoing online conversation between readers, writers and fans simply does not exist in the same way in the world of mainstream literature – just one more thing that makes SF such a unique and stimulating field to be working in.
As someone who very much enjoys the theory-and-criticism side of SF (a good argument, in other words) I feel honoured to be a part of this anthology.