What She Left by T. R. Richmond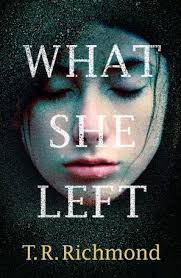 The books that annoy me most are usually those I feel most let down by. When I first heard about What She Left I couldn't wait to read it. The novel was billed as a crime story with a difference, an account of a death and the solution to a mystery, pieced together from emails, letters, diary extracts, online forums and newspaper reports. I like found documents, I like mosaic novels, I like non-linear narratives. I was expecting to like this novel very much. In fact, the experience of reading it was like watching Broadchurch or Missing. You know that point about half way through the series when you know you've been duped into thinking this would be good (less pointless, more strongly characterised and better written than all the other crime dramas you've become unwillingly addicted to over the years) when it patently isn't, when you wish you had the willpower to end your relationship with the programme right now but you can't quite do it? Reading What She Left feels just like that.
The plot is pretty simple: on an icy February morning in 2012, the body of a young journalist, Alice Salmon, is found floating in a river in Southampton. Alice, who completed her undergraduate studies at the University of Southampton some eight years before, was by all accounts a lovely person: adored by her friends, admired by her colleagues, cherished by her family and boyfriend. Who could possibly have wanted to kill Alice? And surely her life had too much going for it for her to consider suicide? Her death must have been an accident – she was drunk, the bridge was icy, she slipped and fell… But of course there are secrets in Alice's past, as there are in everyone's. Enter Professor Jeremy Cooke, a TV anthropologist, lecturer at Southampton University, ex-mentor of Alice. We soon learn that Cooke was once intimately acquainted with Alice's mother, Liz, and has more than a passing interest in the case. Newly diagnosed with prostate cancer, he sees it as his final mission to discover what really happened to Alice, to set the truth on record in the form of a written account. The book he eventually publishes, compiled from the various documents Cooke has gathered together and its conclusions a secret until now, is ostensibly the book that you are holding in your hands.
Which would all be great, if only, well, so many things. If only Richmond had taken more care in the creation of his various found documents, for a start. As it is, we have letters and diary entries that read pretty much like standard narrative prose, complete with conventionally formatted dialogue and extended flashbacks. Of course it would be OK for the writer to take some liberties here, it would be impossible not to, but no one writes letters like this, it just doesn't happen. It's as if Richmond enjoyed the idea of constructing an epistolary novel, then found out how difficult it would be to convey a whole story in that way and decided that no one would notice if he cheated. The blog entries and emails are, if anything, worse. The blog posts are nothing like the kind of blog posts anyone would actually publish. Richmond tries to get around this problem by having the point of view character (in this case Alice's best friend Megan) make self deprecating remarks along the lines of 'only six people read this blog anyway, so who cares what I write here?' which do nothing to mitigate the unfitness of said entries for stated purpose. Indeed, Richmond's conception of 'internet language' is a problem generally. The novel contains numerous self conscious instances of young people making jokes about the cluelessness of old people on the internet, couched in language that already sounds like old people on the internet. Does anyone use the term 'bestie' except ironically? Did they ever? When employed by those writers with a decent ear for it, the language of the internet (like any other spoken or written language variant) can take on the characteristics of poetry. In What She Left it is tepid at best and more often a matter for squirming embarrassment. This book was already dated before the publisher hit 'print'.
But there are other problems, too. If you're writing a thriller, you need either an amazing plot or compelling characters. Ideally you'll have both, but all writers have their different strengths and if you skew more naturally towards one of these key ingredients that need not matter. If you write your favoured key ingredient well enough, your reader may well not notice that the other is lacking. But they are certainly going to notice if you people your completely banal standard-issue yuppie thriller plot with completely banal standard-issue yuppies. Professor Cooke is your typical kind of lecherous middle-aged lecturer, still ogling his students, still looking back nostalgically to the days when his ogling actually got him somewhere, still regretting that he was never as brilliant as his (off-page) brilliant best friend. He reminisces about roaring around the Hampshire lanes in his TR7. (Who ever heard of a university lecturer driving a TR7? A beat-up Fiat Uno was more par for the course when I was at uni.)  He's a dick, in other words, but he doesn't even have the consideration to be a dick in an interesting way. His narrative is egregious, self-serving, and above all dull. The character of Alice fares no better in Richmond's hands. She too is dull, and Richmond gives us no reason to care about her or be interested in her, save for the fact that she is dead. Her narrative voice veers excitably all over the dial from too-young to too-old, she's meant to be into hard-line vigilante crime journalism but her portions of the narrative – the unconvincing diary entries, mostly – give us no sense of this other than her feeling sorry for old ladies on the tube or whatever. Her much-vaunted interest in Sylvia Plath is a clichéd not to say lazy touch, put there for the sole purpose of advancing the plot (in a really corny way – but you'll get to that).
It should also be noted that the novel is sexist in a dozen unthinking, low-level, predictably depressing ways. Alice is there to be ogled and stalked, Megan is there to be treacherous and crazy, Liz is there to be alcoholic and unbalanced. Professor Cock, sorry Cooke is there to analyse these scintillating facts for us, to patronise literally every single woman who walks into the narrative and to normalise the ogling and objectification. I don't automatically go around checking whether works of fiction pass the Bechdel test, but does this one? No, of course it doesn't.
Do I even need to add that the eventual denouement is preposterous?
This novel made me want to weep for the opportunities lost. It doesn't have to be this way, I wanted to say. Take the time to make this book how you imagined it would be, I wanted to say. I suppose what this all boils down to is that characters in thrillers are people too, and the thriller writer should take the trouble to reveal them as such. To give them interests and passions and character traits rather than spurious motives and annoying quirks. To portray them in language that reveals a hinterland and not just a surface. Give them something to say, in other words. It gives me no pleasure to state this, but this book had nothing to say.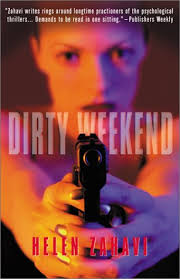 For a crime novel with plenty to say and some to spare, might I suggest you turn instead to Dirty Weekend, by Helen Zahavi. This novel, first published in 1992, caused something of a stir in its day. The Observer called it 'more offensive than pornography'. Salman Rushdie, writing for the Independent on Sunday, called Dirty Weekend a 'hideous, kinky little revenge-novel of violence done to men'. Unfortunately the book came out just before the days of universal internet archiving, and so I haven't been able to source Rushdie's review in its entirety. Which is a shame, because I'd have liked to have pulled it apart more. As it is, I feel confident in saying that his words reveal far more about Rushdie and his attitudes than about Helen Zahavi's barnstorming debut.
This is the story of Bella, who woke up one morning and realised she'd had enough.
She's no one special. England's full of wounded people. Quietly choking. Shrieking softly so the neighbours won't hear. You must have seen them. You've probably passed them. You've certainly stepped on them. Too many people have had enough. It's nothing new. It's what you do about it that really counts.
Thus the novel's opening lines encapsulate the entirety of what is to come. To put it simply, Bella goes on a killing spree. Her targets are not random. We as readers are made a party to everything that happens. I should warn you that this book is violent. It's right out there. What it is not is gratuitous, pointless, exploitative, hideous or kinky. It is dark, powerful, angry, brutal, piercingly intelligent and brilliant. Most of all, there is the language. Helen Zahavi writes with such thrilling assurance it leaves you breathless. Being trapped inside Dirty Weekend is like being on a roller coaster – you scream as you laugh, laugh as you scream. The rhythmic potency of Zahavi's language – like rap, like hip-hop – had me wanting to read whole pages aloud. Her dialogue is exceptional, and hilarious. Kathy Acker puts it best:
Above all Dirty Weekend is a novel composed of language so gorgeous, so precise and witty, that I found myself laughing and thought, I should be crying instead.  Nothing pleases me more than to be surprised into consciousness.
Dirty Weekend made me laugh out loud on numerous occasions. It also had me wanting to hide my face from what was going on on the page. A novel like this does not come along every day. What it says about the world we live in needs to be read. What it does in terms of language and structure needs to be shouted about. It also has a brilliant sense of place – this is Brighton after lights out, make no mistake. It's a tough book but absolutely worth your time. I would also recommend you read Helen Zahavi's essay, written for The Guardian, on answering the critics.