In the Woods by Tana French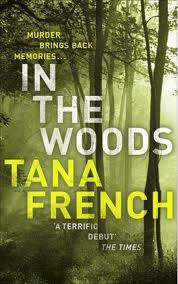 This is very much a book of three halves.
For the first fifty or so pages, I thought I'd discovered that holy grail I seem to spend a fair amount of my reading life searching for: the crime novel that works equally well as literary fiction. A lot of Patricia Highsmith's oeuvre is up there, of course, as are a generous handful of Barbara Vine's, James Ellroy's, David Peace's. All too often though, genre crime novels tend to exhibit the same core flaw that plagues genre horror fiction: amazing set-up, shit denouement. The biggest problem with In the Woods isn't so much its denouement (although it is kind of shit) as the complete-arse status of its narrator-protagonist, Rob Ryan.
As readers of this blog will already know, I have no problem with arsehole protagonists – indeed I rather enjoy them. My problem with Ryan is that it is not sufficiently clear from the text whether French knows him as the dick he is, intends him to be a dick in fact, or whether it's more 'ooh, poor Rob, his tortured past, his damaged feeeelings'.
There's just not enough definition here. And that lack of focus, for me, made the book very disappointing indeed, all the more so because In the Woods begins so promisingly.
Rob Ryan was once Adam Ryan, whose childhood was defined first by his friendship with Peter and Jamie, who grew up alongside him on a Dublin estate, and then by Peter and Jamie's disappearance in nearby woods when the kids were twelve. Rob is recovered alive but traumatised, and with no memory of what happened to his friends. Rob's parents moved away to England, and Rob went to boarding school and then to university. After bumming around London for a couple of years, he realises that his vocation lies with the Dublin Murder Squad. He makes a success of his chosen career, and is happy in his work. Our story opens as Rob is chosen to head up an investigation into the murder of another pre-teen, Katy Devlin, who grew up on that same Knocknaree estate where Ryan, Peter and Jamie once lived and played.
French's set-up is not just intriguing but beautifully written. This opening segment of the novel contains so many insights, so many wry and clever observations, so many passages of lovely prose  that I frequently found myself smiling with pleasure at the fluency and sagacity of French's invention. The first instances of Rob's sexism came as a bit of a shock because I'd been enjoying the story, the writing and, let me add, Rob's narration so much I just wasn't expecting him to be that guy. That was the point where the narrative lost some of its shine for me. Instead of being marvellous, it settled down into what was a perfectly acceptable police thriller with above average writing. I was still enjoying myself – it was just that I had to readjust my expectations.
But things kept getting worse. I tried to convince myself that French was making some kind of statement about sexism in the police force and in murder investigation units in particular. Not a bad idea at all – I'm sure there's plenty of sexism in the police force (!) and what more absorbing and intricate task for a writer to set herself than to create a protagonist who is a very good detective but so flawed in his attitudes that he eventually misses out on solving a case because of them? That's a book I'd make a grab for. But Rob isn't complex enough for that. He's just a sexist who doesn't realise he is one (almost the worst kind) who treats his (investigations) partner appallingly (I honestly cannot bring myself to find one mitigating clause in Rob's behaviour towards Cassie) and who has this pig-annoying habit of searching for princesses to rescue. I suppose one could argue that the princess-rescuing thing does turn out to be the main reason Rob doesn't spot the criminal mastermind on his first throw of the dice (and why he makes even more of an idiot of himself than he has done already) but it's not enough, it's too loose. Rob's thoughts and actions remain insufficiently interrogated by the text itself.
And while we're on the subject of the criminal mastermind, I'm bound to say that [-] was one of the most unconvincing – nay, downright ridiculous – pieces of characterisation I've ever found amongst the pages of a novel by someone who can obviously write. Who can write rather well, in fact – which makes the lousy, stupid portrayal of [-] even more unforgivable and baffling.
I mean, that whole sequence where Cassie is wearing the wire and [-] does their 'I will kill you, Mr Bond, but first let me explain exactly how and why I decided to bring about your eternal damnation' spiel. Just. No.
The entire final quarter of the novel is irrevocably marred by this lazy reliance on tropes, the kind of imaginative failure that ruins many a genre novel, and most Hollywood movies. And I just don't get why a writer would do this to themselves. An intricately plotted crime novel is a skilful thing, a beautiful thing that takes time to invent and accomplish. So why not go that extra mile and invent a plausible antagonist and motive, rather than settle for having the thing play out like an indifferent TV cop drama?
I love crime novels. For pure reading pleasure, it would be a crime novel for me every time. Which is why I want them to be not just OK but great. Keith Ridgway gets this point better than anyone:
I do read crime fiction. Usually in binges. I enjoy crime fiction a great deal. Or two thirds of it. By which I mean the first two thirds of each book. The last third of a crime book usually pisses me off. I love the exposition, getting everything set up and into position, and then the cranking out of the mechanics that are going to get the thing to dance. But in the last third it seems to always end up in a sort of badly choreographed dogfight and the pacing goes haywire and there's so much chasing after loose ends that it ceases to have anything to do with our experienced world and becomes more a sort of fantasy of resolution, a kind of neurotic tidying of life's mess, like sport.
(I think I may have pointed up this interview before but the points Ridgway makes here are just so spot on.)
Ridgway gets around this beautifully by refusing to write a conventional crime novel and I applaud him for it. But wouldn't it be great if, every now and again, one could find a 'real' crime novel that didn't spiral downwards into lunacy?
The thing is though, I will probably be giving Tana French another chance, 1) because in spite of everything I say above I still enjoyed the hell out of reading this and 2) I think she has it in her to produce a crime story that is properly special. I'm tempted to try the second in the Dublin Murder Squad series, because I know it's about Cassie (even though we only ever get to see her through Rob's self-pitying male gaze, it is abundantly clear that Cassie is by far the best character in In the Woods) but I may leap forward to the most recent book in the series first, just to see if French has learned from her mistakes. Here's hoping.