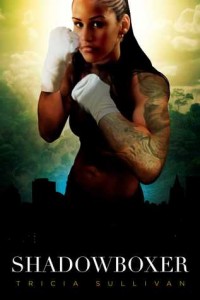 I love hearing about other people's trades. We were in a cabinet maker's workshop yesterday, hearing a young craftsman tell us about how his father, a former train mechanic, turned to working with wood when he was made redundant from the railways. I still remember an evening spent in a car park in Bedford, waiting for the AA to turn up after we inadvertently drove over a nail. The guy who dealt with our call-out changed the tyre in a matter of minutes, all the while recounting hair-raising stories of performing similar tasks on the hard shoulder of the M1 while huge juggernauts rushed past every ten seconds. I find specialism of any kind urgently compelling, and I could have listened to that AA mechanic all evening.
Knowing this, it won't come as a surprise that I love books that feature work as a strong component. And the first section of Tricia Sullivan's new YA novel Shadowboxer is all about work – the work of being a fighter. Jade Barrera is seventeen years old. She is a troubled teenager with a heavy baggage of personal and family problems. She is also a talented practitioner of mixed martial arts, just beginning to make her mark on the sport. When she lets her temper get the better of her (again), her trainer gives her an ultimatum: get smart or get out. He also offers her the chance to spend some time training in an authentic MMA gym in Thailand. Jade is given to understand that saying no to this opportunity is not an option.
I found the whole first third of the book spellbinding. A favourite novel of mine is Walter Tevis's The Queen's Gambit, large portions of which consist of little more than move-by-move descriptions of chess games, and I loved this initial section of Shadowboxer for much the same reason. Tricia Sullivan knows her MMA and her passion shows to wonderful effect. Jade herself is so well drawn that we enter her world with ease. Shadowboxer is being marketed as a YA novel but rich in detail and sophisticated in psychology as it is, I think this is a book that readers of any age would relate to.
The fantastical component is also strong. While she is in Thailand, Jade stumbles into a supernatural world of treachery and child trafficking, populated by human monsters and Buddhist deities. Her guide and confidante is Mya, a young Burmese girl who has been forcibly separated from her family and enslaved by Richard Fuller, a vile and corrupt individual who wishes to utilize Mya's special talents for his own evil gain.
Mya's sections are rich in imagic detail, chilling and beautiful and intensely felt. I actually wanted more of Mya, her story and background, more about what happened to her family and what brought her into contact with Richard Fuller. Of Fuller himself we learn less still, and if I have a criticism of Shadowboxer it is that the interleaving of the two stories – Mya's and Jade's – feels overly hurried. I think there is enough material here for Mya to have a book all to herself – and I suspect that readers (this one included) would have welcomed a measure of background information on the Himmapan Forest and its mythical beasts.
That being said, Shadowboxer is a very special book, partly because it feels so personal and so deeply felt, partly because of the very lovely quality of the writing. There is nothing artificial or cynical or manufactured about the art of Tricia Sullivan. What you find when you read her is originality, spontaneity, a deal of beauty and above all a spirit of enquiry that – truly – is what speculative fiction is all about.
Shadowboxer is published by Ravenstone/Solaris in October 2014.