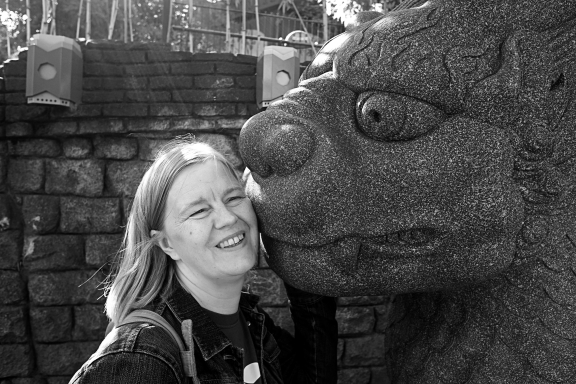 We've just returned from Copenhagen, and a highly enjoyable weekend as the guests of Fantasticon 2017. It was a great pleasure to meet and talk to Danish writers, translators, scholars and fans of SFF. The weekend will be remembered as the weekend I finally got around to reading Rogue Moon (more on that later, I hope) and also as the weekend I began to regain my appetite – understandably in abeyance at the end of a pretty intensive period of reading and reviewing – for SF discussion.
In particular I would like to thank:
Lars Ahn Pedersen, for inviting us to be guests in the first place and for his exemplary organisational skills.
Jan Pedersen, Henrik Harksen and Dennis Rosenfeld, whose enthusiasm for and knowledge of their subject matter made our discussions of H. P. Lovecraft two of my most enjoyable panel experiences to date.
Niels Dalgaard, for his work in translating a generous handful of my short stories for the collection published to coincide with this year's Fantasticon.
Flemming Rasch, for very generously gifting us each a space pen, an item of stationery that has already proved miraculously efficient in taking notes at difficult angles – I never knew how much I needed one of these until I had one!
And last but by no means least, the members of the manned space flight panel, who unwittingly and entirely unexpectedly might have given me the key inspiration for my next novel.
We had a great time, in a beautiful city. Thanks to everyone involved!