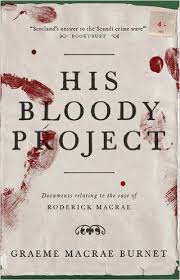 Crime blog: His Bloody Project by Graeme Macrae Burnet
Anyone who's read a Hardy novel will know how his stories pan out: a fundamentally decent human being makes a mistake. This error might be rooted in a secret past, it might be an action forced upon them by adverse circumstance. Whatever it is, it snowballs. Far from being allowed to forget their youthful transgressions, our unfortunate protagonist sees their life sliding further and further beyond their control, resulting finally in a tragic denouement which, for Hardy fans, is all part of the painful pleasure of reading him. We know, almost from the first page, that things will not end well. What draws us on is Hardy's evident sympathy for his characters, his passionate involvement in the human condition. He's a good plotter, too – a characteristic of his fiction that isn't mentioned enough.
And it was Thomas Hardy that kept coming to mind as I read Graeme Macrae Burnet's Booker-longlisted novel His Bloody Project. Hardy's first extant novel, Under the Greenwood Tree, was published in 1872, just a couple of years after the action of Macrae's novel ostensibly takes place, but it's not the books' historical cousinage that draws the comparison so much as the doomed nature of things.
Macrae presents his narrative as a series of documents pertaining to a crime carried out in the Highland settlement of Culduie. The bulk of the text consists of a testament, written from prison by seventeen-year-old Roderick Macrae, charged with the murder of Lachlan 'Broad' Mackenzie, the town constable, along with two other members of his family. Roddy does not deny his crimes – indeed, he turns himself in almost as soon as the butchery is over – but he has agreed, at his advocate's suggestion, to put his case in writing: how did he come to commit these murders, and why?
Over the course of some hundred and fifty pages, Roddy Macrae tells the story of how his family fell deeper into debt and near destitution, small misunderstandings leading to grievous misfortune, all presided over by the hulking figure of Lachlan Broad, a man who seems bent on the destruction of the Macrae clan, and all for reasons unknown. What else is Roddy to do to save his father and siblings? What else can he do? As in all of Hardy's great novels, the outcome seems inevitable, inexorable. But where Hardy chooses to tie up his narratives pretty firmly, securing his loose ends in traditional nineteenth century fashion, Macrae Burnet seats us, as readers, on the bench alongside the jury at Roddy's trial. Just how accurate, how truthful, is the murderer's testimony? The end of Roddy's story is plain to see, yet the impulse that brought him to that end is not so certain.
Nature, or nurture? Choice, or circumstance? Was Roddy mad, or simply bad, and dangerous to know?
His Bloody Project is a tightly worked novel, beautifully crafted and compulsively readable. The language – understated, idiomatic, stark and elegant – is one-hundred percent fit for purpose. As well as the mystery surrounding the murders, the novel also has much to say about the social inequalities and class divides that characterised life in the Highlands at the time, many of them stemming directly from the Highland Clearances. The very real poverty and hardship sustained by ordinary crofters and working people is portrayed in a forthright, unsentimental manner that imparts a wealth of information without ever becoming overtly didactic, revealing great skill on the part of the author in and of itself.
All that being said, I have to admit to not fully understanding the novel's selection for the Booker longlist. When I compare it with Margaret Atwood's Alias Grace, for example, shortlisted for the Booker in 1996 and with a narrative roughly equatable with His Bloody Project, I would be forced to conclude that in terms of its depth, breadth and stylistic innovation, Alias Grace far outdoes His Bloody Project in terms of its reach and literary ambition. Whilst Macrae Burnet does provide us with a measure of dramatic irony, contemporary metafictionality and a fascinatingly unreliable narrator, I would ideally have liked to see all these aspects writ larger, deeper. Whilst wishing Macrae Burnet all the luck in the world – it's fantastic to see a relatively new author published by a Scottish independent press making his mark in this way – I would have liked His Bloody Project to be bolder and more out there in its commitment to postmodernity.
Saying these things makes me feel somewhat churlish, however, because they are somehow beside the point. What gets on any award long- or shortlist is down to the judges, and should not take away from the fact that what Macrae Burnet has produced here is a good novel, sound in wind and limb, a shifting-sands kind of narrative that is never quite what you think it is. For anyone interested in crime writing, in Scottish writing, in a damn fine story, I would recommend His Bloody Project unreservedly.