"He has enslaved you by trickery, you who were great strong valiant. He has stolen your wisdom from you, he has closed your memory to what you were, he has made of you that which is not, which does not speak, which does not possess, which does not write. He has made you a vile and fallen creature. He has gagged abused and betrayed you by means of stratagems, he has stultified your understanding, he has woven around you a long list of defects that he declared essential to your well being, to your nature."
(Monique Wittig, Les Guérillères 1969)
This week saw the launch of the Staunch book prize, an award for the best crime novel or thriller 'in which no woman is beaten, stalked, sexually exploited, raped or murdered'. Its founder, the screenwriter Bridget Lawless, has stated that the idea for the prize was born out of her increasing discomfort with the level of violence – and routine violence at that – meted out to women in crime thrillers, be they on TV, in film or in novels. '[Books] are a source for so much material,' Lawless says, 'and if I can have a tiny bit of influence there, it will help'.
In the kingdom of crime fiction there are many mansions, and plenty worth exploring. Personally, I enjoy crime fiction because I enjoy mysteries, and the description of painstaking forensic work that is frequently involved in solving those mysteries. I enjoy the close focus on particular individuals, their histories and motivations. I enjoy the way such close focus can often be used to reveal wider truths about our society and ways of seeing. All of this and more is the stuff of crime fiction, which is why I read a lot of it. It would be wrong of me not to concede also that crime stories can be thrilling, that the adversarial nature of the set-up, that ancient and timeless conflict between protagonist and antagonist – however you may wish to cast them – provides a story scenario so compelling it is hard to resist, no matter how many times you might have encountered it before.
One subgenre of crime fiction I tend to avoid, however, is the serial killer thriller. There will be notable exceptions of course, but most serial killer thrillers are for me the novelistic equivalent of the slasher film in horror: formulaic and unutterably pointless. these films and books are not so much frightening as tedious, the product of dull imaginations and brain-wearying in the extreme. In recent years, I have started to find these kind of crime novels not just boring but actively offensive. As Lawless suggests in her rationale for the Staunch prize, women in serial killer thrillers are all too often simply cannon fodder, not so much characters as tropes, an excuse for the depiction of, well, more violence against women. Now, whenever I see a book blurb describe 'a series of brutal murders, all young women', I know that nine times out of ten the book in question will be a lazy book, a book whose hackneyed plot I have encountered too many times before, a book that will waste my time and test my patience.
Perhaps the worst aspect of such 'thrillers' is how often they try and masquerade as paeans to social justice: 'Gee, we've got to catch this monster before he kills again!'
On the other hand, when confronted with something like the Staunch prize, I find myself instinctively reacting against any kind of prescription for what writers should or should not be choosing as their subject matter. For me, Lawless's contention that 'how we see women depicted and treated in fiction does spread out to the wider world and how women are treated there' treads perilously close to Mary Whitehouse territory, the scares about what video nasties were supposedly doing to youth in the 1970s, the City of Westminster banning Cronenberg's innocuous adaptation of Ballard's Crash back in 1996.
Fiction is surely a reflection of what is going on in the real world, not the other way around, and the point with subject matter is not what that subject matter is, but how it is used. When asked her opinion of the Staunch prize, the crime writer Val McDermid maintained that it is 'entirely possible to write about [violence against women] without being exploitative or gratuitous… My take on writing [about this] is that it's my anger at that very thing that fires much of my work. As long as men commit appalling acts of misogyny and violence against women, I will write about it so that it does not go unnoticed'.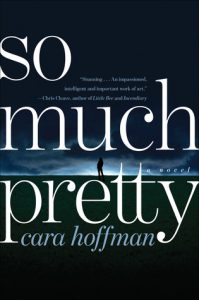 The announcement of the Staunch prize this week happened to coincide with my reading of Cara Hoffman's astounding 2011 debut So Much Pretty. Someone recommended Hoffman to me a couple of years ago, and now I've finally got round to reading her, my main feeling is one of frustration that she's not better known. Hoffman based So Much Pretty on a real-life abduction case that she investigated while working as a journalist. The resulting novel is one of the most compelling and best executed crime novels I have read in recent years. It is also one of the most chilling. So Much Pretty is essentially the story of three women – a journalist, a gifted high school student, a waitress in a local diner – and the way their histories interweave. The novel is set in upstate New York, in a small and supposedly close-knit farming community that hides bitter social division and personal tensions. As much as anything, So Much Pretty is a characterisation of that community. Hoffman tells her story through a series of interviews, essays and personal accounts that build a detailed and intimate portrait of small town life and politics, the often arbitrary nature of the most horrific crimes, the habits of denial that allow such crimes to be perpetrated, the way such denial continues to shape and to define the social milieu in which we exist.
Although Hoffman chooses to depict very little violence on the page, the violence we glimpse between the lines is devastating. That anyone could come away from this book without sensing Hoffman's anger at the violence – daily, routinely – done to women would beggar belief. As a polemic, So Much Pretty is excoriating. As a book – as a way of telling a story – it is brilliant. As a crime novel it is important. This is a book that needed to be written, a book people – and I'll go one further here and say men especially – need to read. I would also say we need more novels of this calibre, that show this level of skill and bravery in tackling their difficult subject matter, not fewer.
I am not 'against' the Staunch prize, quite the opposite. As a book prize, it's not trying to ban anything, but to draw attention to something. If it can draw attention to books that find new ways of telling crime stories – new ways of seeing, as Lawless hopes – then the endeavour will have been worthwhile.
For the writer though, the only duty is to tell the story they are drawn to telling as well as they can. To think about the subject matter they have chosen, and before they take that leap, to perhaps ask themselves why exactly they have chosen it.