There was a piece by Tim Lott in the Guardian recently in which he argued that in Britain at least 'the form of storytelling and literary novel writing has become largely divorced'. How needlessly reductive can you get?  His argument seemed to me like a variation on the often rehearsed and entirely fake battle between genre fiction and so-called litfic, a ridiculous distraction from the job of proper criticism.
Writing is a peculiar business, and one aspect of writing that is rarely acknowledged is the fact that most writers have little control over what kind of writer they are. You are pulled inexorably, often mercilessly, in a certain direction. The writer of 'literary fiction' is no more necessarily an Oxbridge snob than the writer of popular spy thrillers is a money-hoovering philistine. The most successful bestsellers are written because the author loves and understands the form and wants to communicate their excitement to readers. Those writers who find themselves more drawn to exploring language are no different from the painters who, in the 1890s, began exploring the possibilities of paint itself – the medium, not the message. The work of Monet and even Cezanne hardly seems revolutionary to us now – we have absorbed it into our iconography, our collective understanding of what representational art can reach for and achieve. Fifty years later Krasner and Pollock, Frankenthaler and Motherwell would stretch the point further, doing away with representation almost entirely. Similarly, the paintings that outraged a generation of critics now adorn our coffee mugs and supper trays. We get it.
Writers write what they can and what they must. To insist that writing – arguably the most malleable of art forms – should universally strive for the ideals upheld by work that was no longer new even a century ago is just so much bunkum, just as it is bunkum to suggest that British literary fiction has 'lost the plot'. Lott rightly cites Donna Tartt's The Secret History (American, you see) as one of those works that appeal equally across supposed literary and commercial divides. I would raise him Barbara Vine's Asta's Book, Catriona Ward's Rawblood, Helen Oyeyemi's The Icarus Girl, Ali Smith's The Accidental, Christopher Priest's The Prestige, Zoe Heller's Notes on a Scandal, Kazuo Ishiguro's Never Let Me Go, Graeme Macrae Burnet's His Bloody Project.  Some of these titles you will recognise from recent Booker shortlists. Many of them use elements of the thriller, detective fiction, horror fiction, science fiction to achieve their effects. All have propulsive plot lines. All reward a second, even a third reading.
Books, books, books. So much to read, so little time to waste arguing over what, exactly, writers should be writing. Lott would surely concede that the most interesting and rewarding works are to be found precisely at the margins of genre, where our expectations can be subverted and yet where – yes – we can continue enjoying the ideas and tropes of those stories and narrative archetypes that resonate with us most strongly. Yes, we are all still campfire dwellers. That does not mean we don't enjoy it when the bard from another village wanders across to inform us we don't know jack, that it's really this story we should be listening to and so sit the hell down…
More interesting by far than Lott's boringly prescriptive essay is Tony White's choice of his Top Ten Experimental Thrillers, a piece that delves deep into why it is that we enjoy thrillers (I reckon Gertrude Stein for one would act pretty swiftly in calling out those who accuse crime writers of slumming it), as well as the ways in which detective fiction – perhaps the most enduringly popular of all literary genres – can still surprise us. Of course, any future 'top ten' list of postmodern crime fiction would have to include White's own new novel, The Fountain in the Forest, which exemplifies his thesis pretty much perfectly, as well as killing Lott's theory about British literary writing's plotlessness stone dead.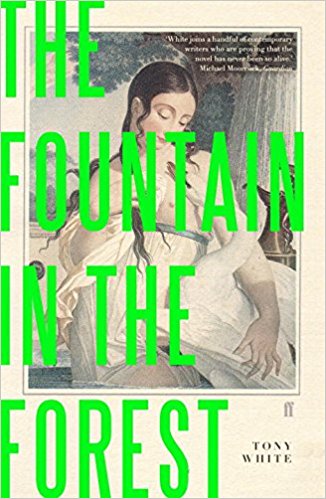 By Lott's reckoning, White's interest in and practice of OULIPO techniques would place him firmly in the discredited 'literary' camp – read confusingly esoteric non-narrative with a snobbish insistence on obscurity – yet The Fountain in the Forest can be read with all the pleasure you might expect from a knotty police procedural, a knowledgeably detailed, intriguing and compelling police procedural at that. The story drives ever forward, even when it takes you backwards in time to take a look at the roots of the crime in question. Even when it flip-flops between two distinct time-streams and character identities within the space of a single sentence, the sense throughout is of a steady and satisfying accretion of significant information, i.e clues – exactly what you'd hope for from any good thriller.
The OULIPO stuff – elaborated upon in detail by White in his Afterword – is as significant to the narrative as you want to make it. You could read the novel with no knowledge of OULIPO and enjoy it just as well. Yet for those who feel like delving deeper, an examination of White's methods and motives will reveal new layers, extra nuances and a background atmosphere that lends the novel an added eeriness and potency.
Anyone who enjoyed Keith Ridgway's Hawthorn & Child or Nicholas Royle's First Novel will love this book. Anyone who is into Ian Rankin or Denise Mina will love it, too.
For me, The Fountain in the Forest has been made especially enjoyable through a web of strange coincidences that seem none the less prescient for that: my own concerns over the gentrification of London, obscure parts of Exeter that I happen to know well, a string of places in the south of France that mark significant childhood memories, even salt-glazed ceramics – it's all stuff from my own life, stuff I recognise and might write about. To find it turning up randomly and all together in someone else's novel is a delightful surprise. And weird.
Above all, there is the joy inherent in a book well made: language expertly deployed, place wonderfully evoked, ideas, characters, memories, theories, political subtext brought vibrantly to life, a good story well told. The Fountain in the Forest would be a worthy contender for the CWA Gold Dagger. It is equally the kind of book that might win the Goldsmiths Prize. Read, and enjoy.