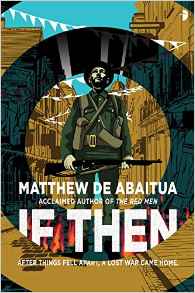 Bonfire night in Hastings always left me wanting to rush home and write about it. It's an elaborate and thrilling affair, an hours-long spectacle of mime, mummery, music and street artistry, prepared for many weeks in advance and attended upon by thousands. It has the feel of a pagan carnivale, which I suppose Guy Fawkes night is, in a way. The costumes, pipes and drums certainly put fire in the blood and I for one found the whole thing exciting and strangely moving, the kind of public ceremonial that leaves you feeling intrinsically linked to history in a mysterious way. I've not attended the bonfire parade in the almost-neighbouring town of Lewes, but from what I understand it is taken at least as seriously as the one in Hastings and is at least as ornate.
There's an extended sequence towards the beginning of Matthew de Abaitua's Lewes-set novel If Then that just has to have been inspired by the bonfire ceremonials – I'd eat my proverbial hat if it wasn't. It's a fantastic scene, diabolic and weird, and though on the face of it it has nothing to do with a bonfire party, I couldn't imagine anyone capturing the spirit of the thing so vividly and in such brightly sinister colours as de Abaitua.
What are they celebrating then, de Abaitua's Lewesians? Eviction Night of course – and we all must know where the germ of that idea came from. The horrifying scenes in If Then now seem to cast a backward shadow over the whole of the 2000s, all those ridiculous Friday nights, waiting to see who would leave the Big Brother house (and who cares about that now for even a microsecond?)
De Abaitua has certainly got his own back on Davina.
When you think about post-New Wave novels of the Cold War such as Christopher Priest's A Dream of Wessex and Richard Cowper's The Road to Corlay, what comes to mind is a kind of uneasy dreaming, a communal self-deception in the face of oncoming disaster. These novels – and there are others we might add to their number: Keith Roberts's Pavane of course, D. G. Compton's The Continuous Katherine Mortenhoe – have a languorous, pastoral quality that belies their urgency. Written in the shadow of the Bomb, subsumed by the brasher and seemingly more contemporary colours of cyberpunk, they are important to British SF in a way that is not always paid due diligence. Now we have de Abaitua's If Then, whose themes and concerns and sense of place echo those of the post New-Wave in a manner almost shocking in its resonance.
Not the Bomb, but the bomb, not the Cold War, but the mass-produced, soul-grinding exigences of late capitalism. If Then shows us – in the murky mud-green tones of John Singer Sargent's great World War One painting 'Gassed' – how the capitalist experiment is failing. It also provides an equally horrific illustration of the perils we face in finding a route out of it, something that might fill its vacuum without destroying the lot of us – and the planet – in the process.
If Then starts out reading like metaphor. The deeper you penetrate its interior, the more you come to understand that it is documentary. This isn't really the future, or indeed the past. These things are happening now, to real people. I found the first quarter of this novel to be some of the most gauntly terrifying SF I have ever read.
If Then may be one of the most important works of British SF to appear in recent years. It is sinewy, tough meat at times, but then so is any decent intellectual discussion. It is stunningly original and superbly well written. For those who care about such things, it is firmly of SF, not the literary mainstream – yet it is technically as complex and well executed as any modernist novel you may meet on your Booker travels. I hope this book will be discussed and debated and praised, for it deserves all three sorts of attention in generous measure. If Then is the opposite of the literature of reassurance, it is everything science fiction should be aiming for, and it is wonderful to see de Abaitua back on the scene.
"Do you think that an artist imagines the final painting in an instant? That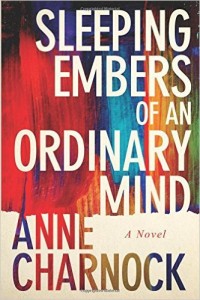 the painting composes itself through a moment's inspiration? The artist must have a strategy every bit as cunning as the commander of a great army. Like Nicolo di Tolentino, here, in this painting. Remember that." (p 65) 
In this scene, not far from the start of Anne Charnock's second novel Sleeping Embers of an Ordinary Mind, the Renaissance artist Paolo Uccello tutors his daughter Antonia in the art of composition. Using his drawings for 'The Battle of San Romano' as examples, Uccello prompts Antonia to describe the many ways in which the panting not so much allows itself to be looked at as gives the viewer quiet instructions in ways of seeing. Through the careful use and positioning of key symbols and images, Uccello's work does not just set a scene, it tells a story. That this scene conveys with such beautiful economy the signs and symbols – a lance, a wooden chest, the plague, a portrait, a battle, a nunnery – that Charnock herself has used to stitch together her own three-stranded narrative is but one reason among many that this quiet, lovely and exquisitely crafted novel is itself a masterclass in composition.
There are traumas hinted at in these pages – the untimely death of a parent, the cataclysmic loss of life in war, the entry of a thirteen-year-old girl into a life of permanent seclusion in a convent – but these are meditated upon rather than graphically described. Sleeping Embers of an Ordinary Mind is a contemplation of history, of the ties that bind us and the losses that define us. The stories of three women – a young painter in Renaissance Italy, a teenage girl working on a history project in contemporary London, an art historian living one hundred years from now – intertwine to form a narrative that moves us and surprises us in equal measure. As in her debut novel A Calculated Life, the clarity and refined elegance of Charnock's prose is a significant achievement.
In the Acknowledgements section of Sleeping Embers, Anne Charnock states how much she enjoys the research portion of writing a novel, and indeed this enjoyment, Charnock's love of and fascination in her subject matter, shines through on every page. Charnock's research is expertly deployed, inviting us in to discover more about her subjects rather than fencing us out behind a barrage of facts. I'm passionately interested in painting myself, and so will often naturally gravitate towards novels that include the visual arts as a core subject matter. For every novel that knows what it's doing (Siri Hustvedt's The Blazing World, Russell Hoban's My Tango with Barbara Strozzi, or The Bat Tattoo, or indeed anything by Hoban) there seem to be a dozen that simply appropriate art as a handy bolt-on 'subject of interest', a problem I find annoying and disappointing in equal measure. What a joy then, to relinquish myself to Charnock's Quattrocento, to contemplate her analysis of the relationship between the work of Bernard and Gauguin, to be made party to that final scene with Antonia, bright as an icon, in which she discovers that colour, that paint itself is capable of telling a story that transcends mere realism, a discovery that may have exerted a seminal influence on future generations of artists far in her future. That Charnock knows what she's doing is never in doubt. When I found myself looking up the specific works by Uccello that Charnock references in her text, I knew I'd been thoroughly seduced by this novel. And for all that Antonia Uccello's portrait of her mother at prayer is a beautiful yet entirely fabricated construct, one cannot entirely let go of the feeling that the painting is in fact out there somewhere, waiting to be discovered.
You can find out more about the inspirations behind Sleeping Embers of an Ordinary Mind at Anne Charnock's Pinterest page, here.
Needless to say, both If Then and Sleeping Embers will be getting my vote for next year's BSFA Award.
Happy New Year, everyone. Gods bless 2016, and all who sail in her.