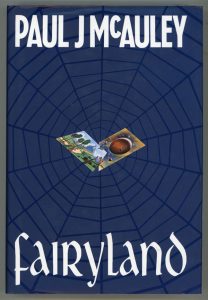 I started reading Paul McAuley's Fairyland because I've been wanting to catch up with a few more previous Clarke winners. I had no idea, when I began it, that the novel's brilliant second section takes place in a future Paris. It feels wonderfully appropriate to have read it during my residency here.
I admire Fairyland, firstly for its creative ingenuity – rendering fairies as a science fictional conceit is a great idea and McAuley has a lot of fun with it – and secondly for its wealth of ideas: the socially divided, fragmenting Europe in which Fairyland takes place isn't a million miles from Dave Hutchinson's fractured Europe series and McAuley set out to explore it twenty years earlier. Its prescience – not of events so much as tone – is remarkable in places, a grubby, post-cyberpunk latent awareness of things to come. The biotech elements have so much potential, and my only gripe with Fairyland is that too much energy is wasted, in the end, on the ho-hum chase-and-find thriller plot. Your mileage may vary, of course – it'll be no secret to regular readers of this blog that I find most quest plots excruciatingly tedious and much prefer the detective mystery template.
But Fairyland is well worth reading for Part 2 alone – a scintillating piece of writing, a magisterial novella in its own right, showcasing everything science fiction can do and should be.
Nano-fairies undermining Eurodisney. I think they're already here.
*
Following the announcement of the Booker Prize on Tuesday, I've been thinking again about the decision, made back in 2013, to make American novels (albeit American novels published in the UK) eligible for the prize. I was an agnostic at the time, but now feel less sanguine. With two American winners in a row, we begin to see how our most celebrated literary prize might increasingly come to be dominated by American concerns, an American worldview, and most especially American modes of writing. Looking back at the shortlists these past three years, we see how interesting and diverse they are. We also see how an intangible something has shifted.
It's not even about the winners and shortlistees, and least of all is it about Paul Beatty and George Saunders, both eminently worthy of winning prizes, both wonderful artists whose inclusive and dedicated approach to writing should be celebrated and promoted. It's more about what happens further down the food chain, where – because of the necessary new rules restricting even further the numbers of books publishers are allowed to submit, and thereby concentrating submissions still more firmly into the hands of the more powerful players – ever fewer British and Commonwealth writers are going to have a chance to even have their book in contention. This will inevitably affect the texture of the prize, the overall outlook and – I have come to believe – not in a good way. Earlier this week I reread Philip Hensher's piece for the Guardian, published shortly after the announcement that American novels were to be made eligible. At the time I thought it was a tad hysterical. Now I think that, although the Booker isn't quite as doomed as Hensher suggests, he makes some pertinent points that are indeed being borne out by experience.
It's a bit like Brexit, really: someone should have the guts to admit this was a mistake and press the reset button.
*
As a general rule, I wouldn't normally be in the right place at the right time to observe an art world scandal as it unfolded but this week, by sheer force of happenstance, I was. Joep van Lieshout's sculpture Domestikator, rejected by the Louvre on grounds of being a public obscenity, was erected (yup) on Monday in front of the Pompidou Centre instead. Pompidou patrons are more accepting than general strollers in the Tuileries, apparently. Our favourite Guardian arts commentator, Jonathan Jones, has got himself all in a lather about it, insisting that Domestikator is 'nasty public art' and that shoving people's faces in it is an act of bullying. Which is a shame, given that he clearly understands the visual language and intent of the sculpture perfectly well:
"Van Lieshout is making an in-joke about architecture, mocking the Dutch tradition of utopian art and design. In the centenary year of the De Stijl movement, Domestikator resembles a De Stijl design gone badly wrong. It looks as if a socially responsible modernist architect has created a vision of an ideal habitation, only to accidentally make it look like a man penetrating a dog."
Why the rest of his piece had to be so po-faced and self-righteous, I have no idea. Claiming that he believes van Lieshout's statement to be 'elitist' is just Jones trying to position himself on the right side of the barricades. The sculpture is so abstracted it's difficult to see how it could offend anyone unless – like Jones – they were deliberately setting out to be offended. Van Lieshout said on Monday that he was 'disappointed' by the Louvre's decision to offload the sculpture. Well, he needn't be. People at the Pompidou have been enjoying, chatting about and clustering excitedly around the piece all week. Dare I suggest they seem to have taken it to their hearts? It's certainly getting a lot more attention than it would have done if the Louvre had simply put it up where it was originally supposed to be and kept stumm about it. As for Jonathan Jones, going on past form, he'll no doubt pop up again in ten years' time to tell us why Domestikator is actually the greatest piece of public artwork ever.
*
On Monday evening I took part in an event at La Maison de la Poesie, to celebrate the thirtieth anniversary of my French publisher, Editions Tristram. The honour of being onstage in such a venue cannot be overstated. As part of my segment of the evening, Tristram's co-director, Sylvie Martigny read a short extract from the French edition of The Race, and it was brought home to me just what a marvellous translator Bernard Sigaud is. The words were in French, yet the weight and rhythm of the sentences, the emotional range and tone were inalienably mine. A small miracle had been performed, and it is precisely this kind of small miracle that the art of translation is all about. Once again, the privilege of having such passionate, committed, creative people working on my behalf cannot be overstated. Thank you, Tristrams. Thank you, Bernard.