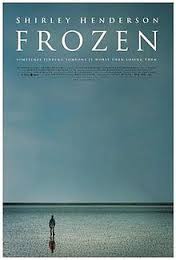 I found a reference to this film quite by chance, while I was looking for something else – isn't that what always happens on the internet? And no, I'm not talking about Elsa and Anna and 'Let it Go', nor the by-the-numbers 2010 trapped-on-a-ski-lift-with-wolves-beneath horror movie either. This is something quite different – and it's exquisite. It is also, so far as I can tell, almost completely unknown.
Kath works in a fish factory in the town of Fleetwood, on the edge of Morecambe Bay. Following the unexplained disappearance of her sister Annie two years before, Kath falls into depression and attempts suicide.  She is referred to a counsellor, a local parish priest, who helps her begin to talk through her feelings of abandonment. Kath is not prepared to give up on her sister, however. She pays a visit to the police, demanding to see the video clip taken from a security camera that shows the last recorded sighting of Annie down by the docks. Kath watches the film obsessively, searching for any tiny detail that the police may have missed. When she retraces her sister's last known movements in an attempt to draw closer to the truth, she experiences something extraordinary. What she sees convinces her that Annie – wherever she is – is trying to get a message to her. Desperate to be believed, she turns to Father Noyen, landing them both in a situation that neither has foreseen.
This is a slow-burn, quietly effective ghost story with an immaculately realised sense of place and a genuine frisson of terror at its heart. Stumbling upon it unexpectedly like this makes it seem all the more magical somehow, like being made party to a secret. Shirley Henderson and Roshan Seth are outstanding in the lead roles, but everyone involved with this movie has done a marvellous job. The stark simplicity of the screenplay is a joy. The writer and director, Juliet McKoen, made this film in 2005 and so far as I can tell she's made nothing else since. This seems a criminal shame to me and I sincerely hope we see more from her in the future. Fans of Andrea Arnold and Mike Leigh, the English ghost story and especially The Loney should all seek out this gem as soon as possible. Watch out for the moment with the roller coaster. It made all the hairs on the back of my neck stand on end – and that's something you'll never come close to getting from more commercial horror.
Superb little indie movie and most highly recommended.