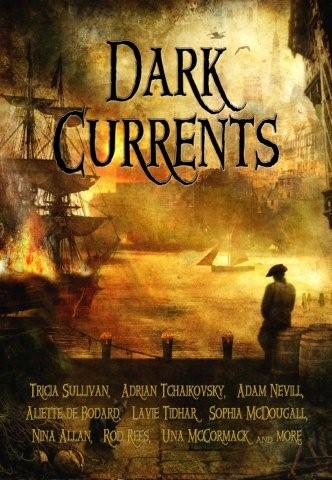 Firstly, here is the ToC for the forthcoming NewCon Press anthology Dark Currents:
Introduction by Ian Whates
The Fall of Lady Sealight – Adrian Tchaikovsky
The Age of Entitlement – Adam Nevill
Electrify Me – Tricia Sullivan
Alternate Currents – Rod Rees
The Barricade – Nina Allan
Things that Are Here Now – Andrew Hook
Loose Connections – Finn Clarke
Sleepless in R'lyeh – Lavie Tidhar
Damnation Seize my Soul – Jan Edwards
Home – Emma Coleman
A Change in the Weather – Rebecca J Payne
Bells Ringing Under the Sea – Sophia McDougall
In Tauris – Una McCormack
Lost Sheep – Neil Williamson
The Bleeding Man – Aliette de Bodard
George – V.C. Linde
The anthology will be launched at this year's EasterCon. The wonderful cover art is by Ben Baldwin, who also created the amazing illustrations for 'The Silver Wind' and 'Orinoco' in Interzone and Black Static.
This looks like being an excellent book, and I am especially pleased to be sharing space with Tricia Sullivan, who wrote the intro for my collection The Silver Wind last year. My contribution to Dark Currents, 'The Barricade', was inspired by the landscape and legends of Cornwall and I was wandering around on the set of it only last week.
Secondly, I found out this morning that 'The Silver Wind' has been shortlisted for a BSFA Award in the Short Fiction category. I feel incredibly honoured by this vote of confidence as there seemed to be even more fine stories than usual on the nominations board this year. TTA Press have posted the full shortlists and a link to the story here. Needless to say I am delighted to report that Chris's novel The Islanders has been shortlisted in the Best Novel category.
Thirdly, reading Tomas Transtromer's poem Six Winters in The Guardian today made me want to start writing a new story cycle directly inspired by it. Each of these six haiku-like 'chapters' reads like the writer's note to himself for the opening of a novel.
On a side-track, an empty railway-carriage.
Still. Heraldic.
With the journeys in its claws.
Simply sublime. And wintry. Makes me think of Tarkovsky. And want to stay up all night writing.