#weird 2016: Arrival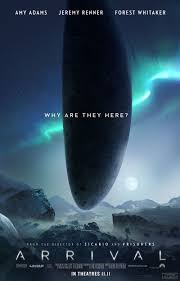 We went to see Denis Villeneuve's new movie Arrival last night. He's an interesting director. His 2010 Incendies was outstanding, his 2013 Prisoners as well executed and chilling an essay in the serial killer thriller genre as you might hope (or not hope) to find. Enemy, Villeneuve's take on a Jose Saramango novel starring Jake Gyllenhaal, was weird and slightly dull but still interesting, a film I'd like to see again after having read the work it is based upon. 2015's Sicario, the movie widely regarded as Villeneuve's breakout, I found sprawling and messy and unkempt, and not in a good way, mainly because the screenplay was so appalling. I'd still go and see anything Villeneuve puts out though. Like another similarly flawed director, David Fincher, he's clearly serious about his art, and that's what counts.
What then to make of Arrival, the film of Ted Chiang's multiple-award-winning novella Story of Your Life (screenplay by Eric Heisserer)? In a sentence: I was expecting so much more. The reviews were great, seeming to agree that Chiang's story, which some had initially deemed 'unfilmable', had been justly served, thus bringing the author's work to a whole new audience. It would be great if that were so – yet after seeing Arrival for myself, I tend towards the belief that it will be chalked up as just another dutiful spin on Close Encounters, with most audiences remaining completely unaware of the movie's infinitely superior source material.
It could be argued that Ted Chiang represents the Platonic ideal of the science fiction writer, the perfect fusion of reason and emotion, of form and idea. His language is candid, unfussy, absolutely fit for purpose, the extensive preparation Chiang undertakes before embarking on a story rendered invisible in its careful and relentlessly considered execution. The word that springs most insistently to mind when I consider the resolution, the unveiling of Story of Your Life is beautiful, not so much because of any 'message' the story might convey, but because of its author's careful and painstaking attention to an idea. Story of Your Life is perhaps most readily comparable with Mieville's Embassytown – stripped of that novel's rococo excesses and clunky final third. At roughly one-sixth of the length, it's a David-and-Goliath scenario with Goliath well and truly struggling to maintain his footing.
What spoiled Embassytown irreparably for me was its surrender to conventional outcomes: a trite 'final battle', a resolution that, after the more pleasingly abstract expositions of the first half, seemed disappointingly pat. And it is this – this damnable Hollywood obsession with conflict and resolution, with jeopardy, for goodness' sake – that made Arrival feel limited to me, and finally derivative. There is no 'conflict' in Story of Your Life – the joy and satisfaction in that story lie in working out what is going on, the sudden realisation, the beauty of certain ideas about language, time and non-linearity – it's like a literary game of chess. Arrival is all about deadlines, time running out, a constant threat of violence, soldiers setting up cordons and dashing about with guns. Amy Adams is the still centre, compelling and powerful in her role and a joy to watch. Yet still, there she is, in her impossibly beautiful waterside house (how d'you get that on an academic's salary?) with her impossibly beautiful doomed child (even here the stakes have to be upped as Louise is made 'responsible' for the child's doomed-ness – it's not like that in the story) the One who can fix the world with a single phone call.
I don't know, perhaps I'm being uncharitable. Arrival is a thoughtful, interesting film narrowly skirting the edge of something special. Perhaps it's simply that in the light of ongoing political events I was simply not in the mood to see yet another film about the American military threatening to destroy anything they don't understand, and where China is once again painted as the inscrutable, implacable villain with their finger on the nuclear button.
I don't think it's China people are worried about at the moment, actually. Jeopardy indeed.