Just received my copy of the latest Black Static, and can't resist sharing the wonderful artwork, by Ben Baldwin, that accompanies my story 'Sunshine'.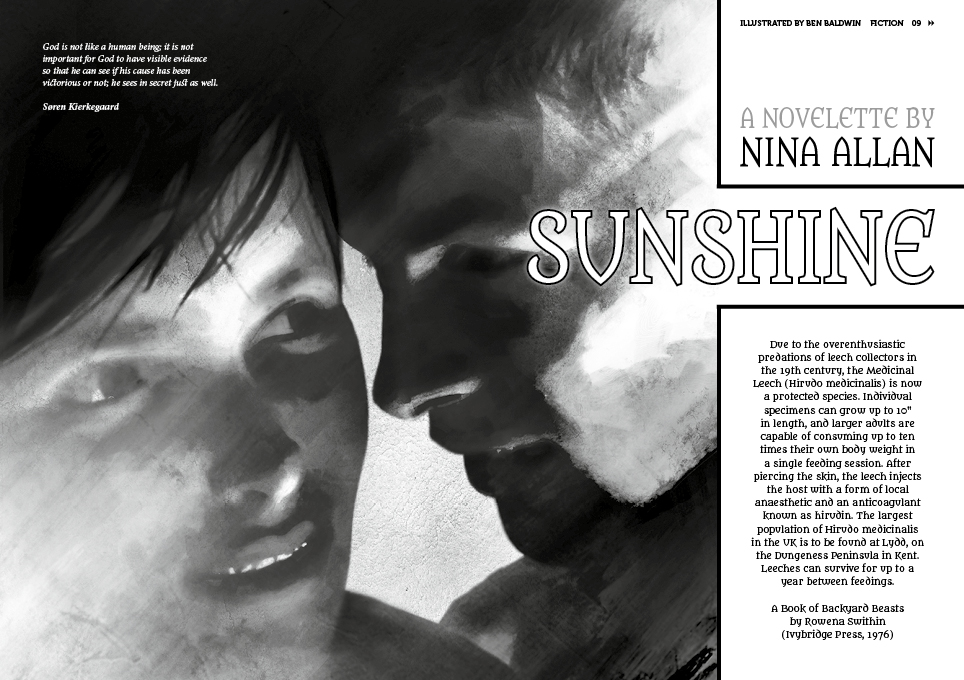 I think it looks great! I also really like the new format for the magazine. It's smaller, but there are more pages. The interior looks cleaner and crisper and with the slightly larger font size it's actually much easier to read. The whole production has a very pleasing 'journal-like' feel to it and I'm delighted to see 'Sunshine' included in its pages. There's plenty of other good stuff in there too that I'm looking forward to catching up with, including a novelette by Ray Cluley and an interview with Nicholas Royle.
You can find more details and subscription links here.
Currently reading: Denis Johnson's Angels, which is pretty astounding.
Currently listening to: Kathryn Williams's Dog Leap Stair. I've had the album for ages, but suddenly rediscovered it again and have been playing it over and over again this week. I find it almost impossible to listen to music when I'm first-drafting, but when I'm second-drafting and if things are going well it's sometimes OK. What tends to happen is that I'll find an album that fits with my rhythm, that seems to complement my thoughts rather than interrupting them, that fuses into a kind of weird symbiosis with the story itself. The two works – the story and the album – often remain inextricably linked in my mind. Considering what I've been writing about this week, its relationship with Kathryn Williams seems totally bizarre, but that's the way it sometimes comes out.
Anyway, it seemed to work, because that story's done now. Pleased with that. Now to begin a read-through of the first draft of my novel…..